Smart Home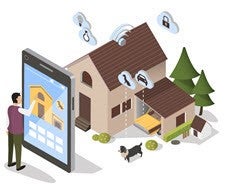 Smart homes: Installing energy-saving technology can be a great idea, whether you're moving into a new place or upgrading your current home. There are different devices and types of technology that can increase the comfort of your home and help you save money. They can also help you become more environmentally conscious.
Ways to invest
Programmable thermostat:

A programmable thermostat like Nest hub are easy to install. You can program it to change the temperature at times when you don't desire as much heating or cooling, including when you're at work, on vacation or asleep. Some thermostats allow you to control them an app on your phone or on your computer, making it easy for you to change the temperature when you're not home.

Automation systems:

Smart home systems can be integrated to improve various functions. For example, with some of the latest lighting systems, you can turn off lighting by room or area, or create a schedule for when certain lights should switch on or off. By having this, even if someone leaves the lights on in one room, they'll still turn off at a designated time helping conserve energy and save money.

Energy-saving devices:

Home appliances including hot water heaters, dishwashers, refrigerators, and clothes dryers consume a lot of energy. By purchasing energy-efficient appliances with Energy Star ratings is an easy way to reduce your energy usage.

ENERGY STAR certified products with connected functionality

are designed to encourage interoperability and offer the following features; low energy use, energy use reporting, and consumer ownership of all data. Some products, such as appliances and smart thermostats also offer the features below.
Park Electric offers rebates for programmable and smart thermostats. Click here to learn more.