If you purchase an electric water heater for a new home or replace an existing electric water heater you may be eligible for a water heater rebate. The rebate program encourages the efficient use of electricity. To qualify for a rebate in the form of a credit on your bill, the new water heater must meet the minimum Department of Energy's Efficiency Factor (EF) rating, be at least 50 gallons, and be applied for within 30 days of purchase. A larger rebate is available for water heaters with higher EF ratings. These ratings are as follows:
Size
DOE Minimum EF
Rating
Higher Minimum EF Rating
50 gallons
.90
.92
60 gallons
.89
.92
80 gallons
.86
.92
Rebate
$50
$100
Members must also agree to participate in future load control programs (currently Park Electric does not have such a program). To receive the rebate the member must complete an application and submit proof of purchase. To receive the $100 rebate proof of EF rating is required.
Get the water heater rebate
To apply for your bill credit rebate, download the form, fill it out and return it to us.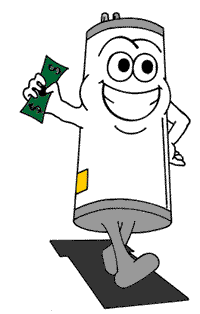 ---
Note: This page includes downloadable files that are in Adobe PDF format and require Adobe Acrobat Reader. You can download Acrobat Reader free of charge from Adobe's web site. This is a safe, fast and easy installation.